Portable Toilet Hire Surrey
Premium Services with Portable Toilet Hire in Surrey
Here at Sarah's Hire, our customers are at the core of what we do. When they're happy, we're happy. Our premium customer service includes knowing what each of our different customers wants and needs from our products. For standard portable toilet hire Surrey can depend on, we offer portable toilet units that are self-contained, easily transported and set up, and above all – reliable. These can service up to 50 people. If that isn't the right fit for certain upscale events, then we have luxury toilet trailers which accommodate up to 180 people and exude a rustic charm and luxurious features such as separate sections for ladies and gents, excellent lighting, hot water, and more.
As well as offering luxury toilet trailers and portable toilets ideal for construction sites, we also offer accessible portable toilets for hire. These come with standard handrails, an extra wide door and additional space to accommodate wheelchair access and adult attendants. We are all about catering to all of our customers, and this includes accounting for the varied needs of disabled attendees.
Quick and Easy Portable Toilet Hire for Surrey and Beyond
All you need to think about when hiring a portable toilet from us is having a flat ground to place the unit on with sufficient room for vehicle access. Our standard delivery days are Wednesdays, Thursdays, and Fridays and the standard collection days are Mondays and Tuesdays. You will receive an estimated delivery or collection time a few days before your event, but if that doesn't work for you, we do deliver and collect out of hours for an extra fee.
Our units are competitive, and we are proud to be industry-leading providers for numerous years for toilet hire in Surrey and beyond. Not only are our services all-inclusive, as we handle everything down to providing the toilet roll, but we also offer flexibility. Times and events can often change for reasons beyond our control, and we won't penalise you for it. Let us know, and we will do our utmost to find a solution that works for you.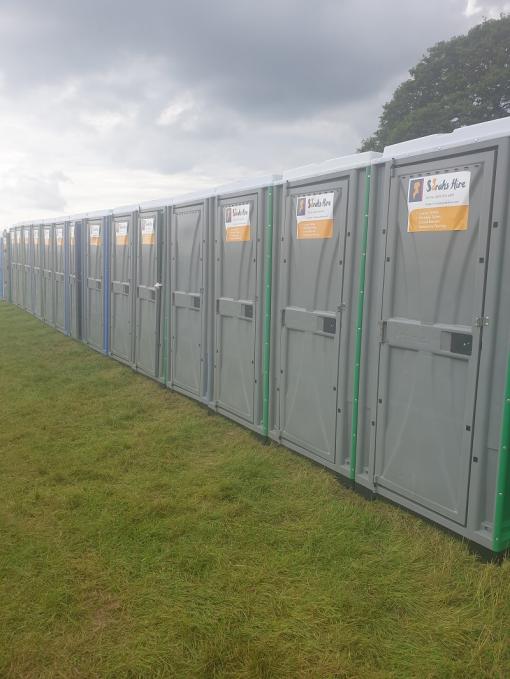 Toilet Hire Surrey Can Depend on
If you're looking to hire portable toilets for an event, you won't have to worry about the units becoming unpresentable by day two. We will make sure they will be in working order for the entire duration of the event. We clean and maintain the portable toilets each day, and if one requires repairing, we have technicians who can come right away to fix it at no extra cost to you. We don't think there's much point in hiring a portable toilet if it won't be in proper working order or becomes unusable because of inconsiderate guests which is likely inevitable as well as unforeseeable. That worry doesn't have to be yours, and we ensure an issue like that won't impact the quality of your event.
The little things matter and our team at Sarah's Hire have you covered from the delivery to the pickup, regardless of the service you hire. Communication is key and you will always be kept up to date with our services. Get in touch with our friendly team and we can help you find the best choice for your requirements. We're the best option for portable toilet hire Surrey can offer if you're looking for quality and customer care.