Luxury Portable Toilet Hire & Shepherds Hut Hire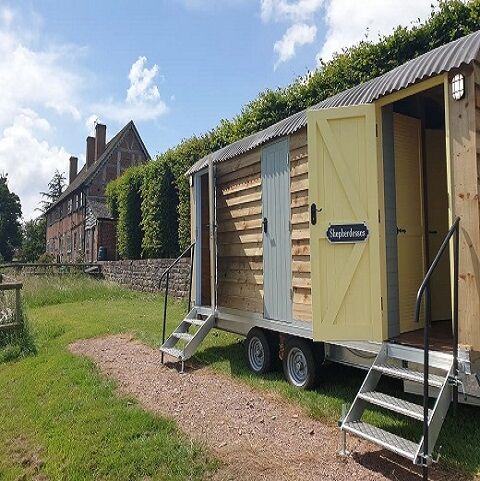 Luxury Portable Toilets for Elegant Events and Important Guests
At Sarah's Hire, we make it our business to know and serve all our customers. Our luxury toilet trailer hire covers the more formal end of the spectrum. We cater to many different events, and these events will have very different themes, attendees, and appearances. Our standard portable toilets are the ideal option at music festivals, carnivals, sports events, and fairs, but we know that they're not suitable everywhere. Some events have a formal, upscale look.
They have distinguished guests that are used to and prefer real comforts wherever they go. Those events are usually beautifully decorated, and that décor tends to clash with the sight of a long row of portable toilets!
For events like those, you can rely on our Shepherd's Hut hire. The Shepherd's Hut trailer is a luxury setup with lovely wood interiors, hot water, good lighting, and private cubicles for ladies and gentlemen alike. These are comfortable facilities that can easily serve up to 180 people a day, and they're ideal for events where people need the bathroom for more than just the toilet itself. Most importantly, the luxury toilet trailer doesn't have the same industrial, out-of-place look that's typical of portable toilets. It's designed to have a rustic charm that doesn't immediately scream "cheap portable loo" to anyone looking in its direction. After all, you want "luxury" to really look like luxury. To set the trailer up, all you need is a power source and a flat space near vehicle access. If you need one, we also rent out entire toilet blocks!
You won't find a company that understands the needs of event planners better than us at Sarah's Hire.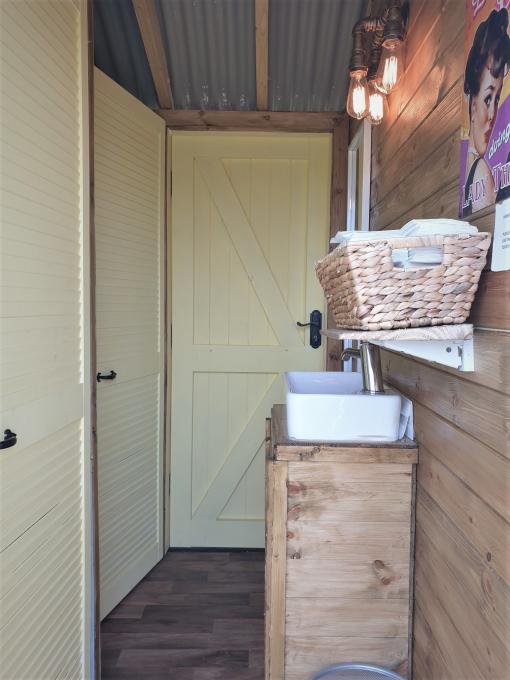 Luxury Toilet Trailer 2+1 Specification
| | |
| --- | --- |
| Length | 4600mm + 1500mm draw bar |
| | |
| --- | --- |
| Number Of Guests | 190 over 8 hours |
| | |
| --- | --- |
| Ladies | 2 x Cubicles |
| Gentleman | 1 x Cubicle – 1 x Urinal |
| Power | 240v 13amp mains |
Luxury Toilet Trailer 3+1 Specification
| | |
| --- | --- |
| Length | 5600mm + 1500mm draw bar |
| | |
| --- | --- |
| Number Of Guests | 250 over 8 hours |
| | |
| --- | --- |
| Ladies | 3 x Cubicles |
| Gentleman | 1 x Cubicle – 3 x Urinal |
| Power | 240v 13amp mains |
Luxury Portable Toilet Hire That Covers the Needs of Guests
In some cases, people might need better facilities than a standard portable toilets can provide. We highly recommend hiring our luxury portable toilets for weddings, as your guests, especially the ladies, will want plenty of good lighting and space to make sure they're looking their best. If it's your own wedding, you might not want typical portable toilets taking away from the perfect day you envisioned. If you're planning a wedding for a client, you probably want to give them whatever fantasy wedding they want, and portable toilets aren't in that picture. Imagine seeing a long line of those in the background of some wedding pictures; it's not too nice, is it? We also offer disabled portable toilets that are a welcome addition at many weddings and events.
Easiest Way to Hire Shepherds Hut Toilets
Save yourself the stress of working with a less dedicated company! We'll make sure to offer the comfort every VIP expects. You can book or ask us any questions not in our FAQs by calling the number above.
Why our Luxury Shepherds Hut Toilet Hire is Great:
Affordable Luxury Toilet Hire
Our units are highly competitive & cost-effective.
Our team not only deliver and collect, we clean and maintain our units during your event.
We pride ourselves on delivering a service you'll love and will always be here to help.
We appreciate events and times can change, simply ask and we will do our best to help.